Hicksville Carpet Cleaning & Tile Cleaning Company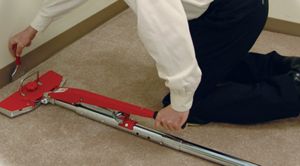 Many carpet cleaning services like ours here at New Again Carpet Cleaning offer tile and grout cleaning services as well. Even with a whole host of chemicals and semi-professional methods to sanitize your Hicksville home, there are still some instances where there simply seems to be no light at the end of the tunnel. Incredibly severe cases of mildew, mold, deterioration and staining might seem hopeless, but before you consider tearing down your tile and replacing it, which can be a time and money consuming project, think about hiring a professional Hicksville tile & grout cleaning service like ours.
Professional Hicksville carpet cleaning may cost a little more than running the vacuum across the floor, but it is worth it in regards to the way that it will make you feel about your home. Not only can our Hicksville carpet cleaning services make your carpet look like new again, but they can also save you from the added expense of having to replace your carpets later on.
Hicksville Upholstery Cleaning
If you are contemplating on hiring Hicksville upholstery cleaning services for your home, you should know that this is probably one of the best decisions that you can make. For many Hicksville homeowners, it comes as a shock as to how important it is to have your upholstery cleaned. Not only will your furniture look like a brand new piece of upholstery, but now, it will also be maintained, which in turn means that your furniture will last longer.
Sad but true, most people never use professional upholstery cleaning service, because they are not aware of the health problems caused by grimy upholstery. Health experts recommended that a upholstery cleaning service should be conducted once in every twelve to eighteen months. If you have a house with high traffic or small children who are prone to spilling food and drink or walking on furniture with shoes, it would be recommended to use our upholstery cleaning services twice a year.
Hicksville Hardwood Floor Cleaning
New Again Carpet Cleaning offers Hicksville hardwood floor cleaning services. No matter what type of wooden floors you have, there is a way to bring back it's clean warmth, beauty, and value to your floors. We offer cleaning and finishing of many species of hardwood in both 3/4" solid, and engineered.
We can clean wood floors such as Red Oak, Birch, Maple, Cherry, and Walnut, and imported hardwoods such as Brazilian Cherry, Brazilian Teak, Brazilian Walnut, Santos Mahogany and many others. We also have green wood floor cleaning products including Lyputs and Bamboo.
Zip Codes We Provide Carpet Cleaning in Hicksville
11590, 11756, 11791, 11801