Woodburn Carpet Cleaning & Tile Cleaning Company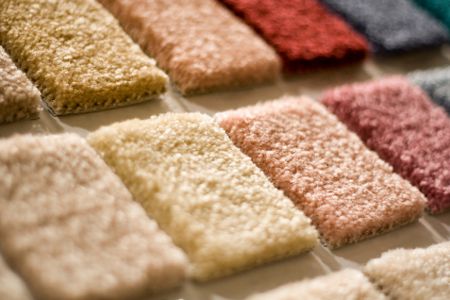 Did you know that quite a few of the common household cleaning agents you would normally reach for to clean a carpet stain will actually damage your carpet forever? Did you know that clear liquid detergents are better for carpet stain removing than opaque ones? How about this: When blotting to clean a carpet stain, should you work outward or inward? If you can't answer those questions, we recommend hiring a Woodburn carpet cleaning expert like New Again Carpet Cleaning. Our carpet cleaners are experts in providing safe and reliable cleaning of your carpeted flooring despite how dirty they may be.
Ceramic and stone tiles are durable, beautiful and can last for years. Certain types of tiles are porous which means that they can be penetrated by dirt, debris and soil. Tile grout is also porous, so over time, dirt and grime can work their way into the pores of both tile and grout. This will make the tile surface look weathered and dirty, and the grout will start to darken over time. This is why Woodburn tile cleaning and grout cleaning services are very necessary.
Many home owners think that mopping is efficient; however, it only cleans the upper surface and will push most of the dirt and grime back into the tile and grout. Without using specialized tile & grout cleaning equipment and methods, your tile will stay that way and will continue to worsen over time unless cleaned professionally. Give New Again Carpet Cleaning,strong> a call today for a free estimate on tile and grout cleaning.
Woodburn Upholstery Cleaning
Furniture upholstery can be a big contributor to unhealthy breathing air in your home. This is why it is so important for your home to hire cleaning services that can come to your home at least once a year to carry out a thorough cleaning service on your behalf. Sad but true, most people never use professional Woodburn upholstery cleaning service, because they are not aware of the health problems caused by grimy upholstery. Health experts recommended that a upholstery cleaning service should be conducted once in every twelve to eighteen months. If you have a house with high traffic or small children who are prone to spilling food and drink or walking on furniture with shoes, it would be recommended to use these services twice a year.
A great Woodburn upholstery cleaning technician will be able to identify fabrics, spot potential problems and enhance drying times. Upholstery cleaning services requires a unique skill set. Cleaning technicians need to be familiar with a wide range of fabrics as some require special handling.
Woodburn Hardwood Floor Cleaning
Old, well worn floors are not appealing. Let New Again Carpet Cleaning renew the warmth and luster of your wood floors with our expert Woodburn wood floor cleaning and refinishing services. There is no need to go through the expensive and extensive procedure of having your old, worn-out wood floors replaced when you invest in our hardwood floor cleaning services. Our team of Woodburn wood floor cleaning experts have the experience and equipment necessary to ensure your wood floors return to their original beauty.
Zip Codes We Provide Carpet Cleaning in Woodburn
46797