Grabill Carpet Cleaning & Tile Cleaning Company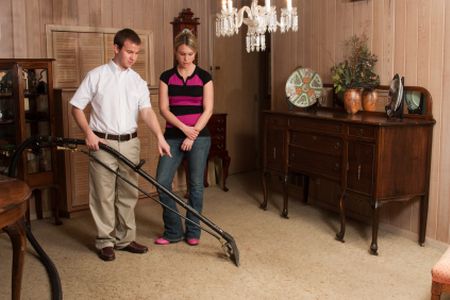 One thing that you should keep in mind when attempting to clean your carpet yourself is to use chemicals that are not really harmful for you and your kids. It is advised that you keep your kids out of the house for at least a day after the carpet cleaning since chemicals in carpet cleaners can bring on asthma and allergy attacks in a number of people. Make sure that you read all the warnings and precautions given on the carpet cleaner packs and follow them exactly.
Rather than take a chance on using the wrong chemicals or techniques to clean your Grabill carpet floors, why not give us a call instead? New Again Carpet Cleaning can provide professional and skilled carpet and tile cleaning for any type of carpet you might have. We will always ensure to use the proper chemicals that won't harm your pets and kids and won't stain and ruin your carpeting.
Our Grabill carpet cleaners offer tile cleaning as well.It is very important that you choose a tile cleaning service like New Again Carpet Cleaning which specializes in tile and grout cleaning in the local Grabill area.
Grabill Upholstery Cleaning
Naturally, most people are not aware that keeping your carpet and furniture clean and well maintained in your Grabill home will play a big part with the quality of air you and your family breathes. Just like carpet, your furniture upholstery accumulates dirt, grime and dust particles, along with the odd stain caused by food and drink spillage. As a result, people living in your home can generate health problems such as allergies and breathing problems because of unhygienic furniture. Give New Again Carpet Cleaning a call today and experience the refreshing feel and smell of your furniture once it's deep cleaned by our Grabill upholstery cleaning experts.
Grabill Hardwood Floor Cleaning
If you have hard wood floors in Grabill, you will want to make sure your flooring is kept clean and looking beautiful. Hardwood floors of all types should be professionally cleaned regularly in order to keep them looking and feeling clean and beautiful.
Some homeowners decide to try and clean the floors on their own instead of hiring a qualified hardwood floor cleaning contractor. Unless you hire a professional hardwood floor cleaning expert, you run the risk of severely damaging your wood floor in the long run. This is why we always recommend you hire a licensed and qualified hardwood floor cleaner like New Again Carpet Cleaning.
Zip Codes We Provide Carpet Cleaning in Grabill
46741
Reviews and Testimonials for New Again Carpet Cleaning in Grabill
Our carpet looks and smells wonderful! After having a dog in the house for many years, I am confident that my carpets are clean! They did a great job and fun to have in my home! We were even able to move our furniture back in after just a few hours.