Best Methods For Tile and Grout Cleaning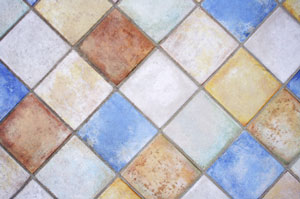 Tile grout comes in a variety of colors from dark to light. Unless you have dark colored grout installed, it will get stained and discolored over time. You probably don't notice the tile changing color, but it does too.
Over time, your tile and grout cleaning chore gets harder and harder. This happens because the finish on the tile and grout is slowly worn off. As dirt and grime attaches to these surfaces, it gets ground in deeper and deeper because the material is porous. After a few years, it looks completely different than it did when new.
Unless you bought and installed the tile and grout new, you probably don't even know what it should really look like. It can be a true miracle when the tile and grout is truly clean. But what's the best way to clean tile and grout? Should you do it yourself or should you hire a tile & grout cleaning service?
Advantages Of Professional Tile & Grout Cleaning Service
Not to mention the obvious, but professional tile and grout cleaning service is of course is the easiest, fastest method. It's a lot of hard work to clean tile and grout yourself, especially when you're trying to remove mold or stains that have set in. All the work is done for you. Yet, there are many other advantages to hiring a professional.
For instance, at New Again Carpet Cleaning, we use commercial-grade tools, equipment, and cleaning solutions that homeowners don't have. This results in a deep-down clean that looks better and lasts longer than the surface clean.
Our methods are also safer for your tile and grout. Bleach solutions and other harsh chemicals can damage the material. It wears off the seal and causes pits. Not only does this type of damage mean the tile and grout have to be replaced sooner, but there will be more problems with mold and mildew.
Eco-Friendly Tile & Grout Cleaning
With our commercial grade tile and grout cleaning equipment, a deep-down clean is achieved with eco-friendly solutions. We us a high-pressure rinse to remove deep surface grime and eco-friendly products to clean and seal the grout afterward.
We also use a fast-dry technique. Baseboards and corners are thoroughly cleaned and inspected for moisture as well.
Tile & Grout Cleaning To Remove Pet Stains & Odors
Pet stains are not easy to clean from tile and grout because of how porous the material is. Over time, ammonia and other pet odors set in and linger no matter how much you try to clean your floors.
Unless you wish to take most of a day scrubbing or applying a product that isn't good for the tile and grout, call in a professional. You'll benefit from time saved, money well spent, lasting, and eco-friendly tile and grout cleaning methods.